Today's post is a review of the Phillips Easy 8 ironing board.
How do you feel about ironing?
I love to iron. I know, that's kind of weird, but I love it because
I make sure I have these perfect ironing conditions:
The kids are asleep (or out) and no one's sitting under the ironing board trying to tug at the cord
I have a movie, a good TV show, or my favourite You Tube videos to watch, uninterrupted, while I iron
I'm using my favourite iron - Phillips Perfect Care - and not a shonky hotel one
I have plenty of space next to me to put the clothes once I've ironed them so I con't have to go back and forth to our wardrobes putting everything away, one at a time, as I go
Put all of those things together and I'm one happy ironing lady (Ok, I'm not really an ironing lady, but if I needed the cash, I would definitely take it up - especially with my PPC iron).
The only problem I've had over the past year or so is my iron is one of those big steam ones, so it didn't fit on my ironing board. When I ironed, I had to put the base down on a coffee table next to me, which worked, but wasn't a simple set up.
A couple of months ago I was sent a Phillips Easy 8 ironing board to try and the main reason I said yes was because it's wide enough to hold my big iron :) But there are some other features that I've now become very accustomed to!
Here's what I love about it:
It's really wide - I know I said that already, but my old ironing board only had room for a third of a shirt at a time and this one does half a shirt at a time - you'd be surprised how much faster that makes it
It's not heavy (really good for me as I have a bad neck from a car accident a few years ago)
It has a fold out rail at the end that has grooves to hold hangers - so I do less back and forth to put things away now
The cover is smooth but not thick (my other ironing board covers were really puffy & it took longer to position each piece of clothing)
It has a remote and phone holder which is perfect for me as I watch TV while I iron and seem to be addicted to my iPhone. Yep, you read that right. Remote holder. Genius :)
The remote holder in action at my house
It also has these cool shoulder wings that I haven't had to use but I think would really come in handy if I was ironing business shirts - here's a pic from the Phillips website: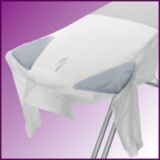 It's amazing the difference a few clever features can make when you're doing a job over and over again each week. I've given away our original ironing board now and this one lives at our house permanently :)
This ironing board would work well:
As a housewarming gift for someone moving out of home for the first time
If you're trying to get your teenager to do their own ironing
If you iron for a living
If you're like me and just love finding ways to make every day jobs easier or more enjoyable
You can find more info on the Phillips Easy 8
here
.
Now it's your turn - give me your ironing tips! What works well for YOU?
x Marissa
* This post contains affiliate links. I was given a complimentary ironing board for review.
Images courtesy of Phillips (except the pic from my lounge room, that's from me).